Trading Block Help
Edit
Working trades is one of the fun aspects to the game. Nothing feels better than having your franchise make a blockbuster deal to move up in the draft or bring in that star player.
Conducting A Trade
Edit
To conduct a trade (if you are coordinator you may have restrictions not allowing you to trade) you will need to (starting from your office/hotel) click on Clipboard > Trade Block from there you will select your team and then either a player or pick or combination from your team and add them to the trade. Then select the team you would like to deal with select a player or pick or combination from that team and add them to the trade. Once the deal is where you would like it click submit, (pick for pick trades are automatically declined, you will need to add a player to allow the trade to go through). Once submitted the other team will receive a message stating they have a trade offer. They will either accept or decline the trade. If accepted an alert will be sent to all the Head Coaches in the Pros and it will be reviewed and they will vote to block or approve the trade. This is to prevent cheating. For a trade to go through it will need more approve votes than block votes abstain votes have no effect on the trade. Trades are processed approximately two hours after both dealing teams accept. This is what a trade block with votes looks like. The Trade deadline is the 11th of every month. Trades open back up after the pro bowl (about the 24th of every month)
Sample Trade Pictured Below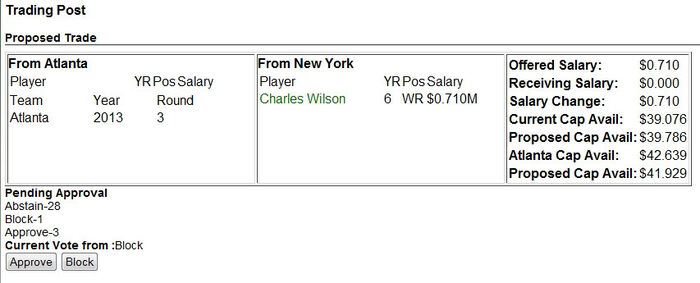 Ad blocker interference detected!
Wikia is a free-to-use site that makes money from advertising. We have a modified experience for viewers using ad blockers

Wikia is not accessible if you've made further modifications. Remove the custom ad blocker rule(s) and the page will load as expected.